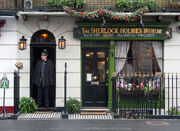 Located at 221B Baker Street within London is the flat of fictional character Sherlock Holmes, perched above the museum that bears his name at 221 Baker Street. Public tours of the flat are conducted by the the owners of the museum, the owner of which officially owns and maintains the entire building.
Ad blocker interference detected!
Wikia is a free-to-use site that makes money from advertising. We have a modified experience for viewers using ad blockers

Wikia is not accessible if you've made further modifications. Remove the custom ad blocker rule(s) and the page will load as expected.